"This class has helped me a lot because I learned that everything is gained by hard work. I also learned about myself and where I am in life. It also helped me see what kind of money I would need in order to live the lifestyle I want to live. It helped me realize that all the rich and famous people didn't get rich or famous by just sitting down and playing video games or using the computer, they got where they are now by studying and working hard."
~Gerardo, Indio High School
"Freshman Seminar has helped me in many ways. This class has given me an opportunity to see how my future life might be, and what I need to do to accomplish what I want. This class has also opened my eyes to know what career I want and not end up somewhere I don't want to be or do. This class has helped me see how much money I need to make to have and afford the lifestyle I want for myself in the future. I can go on and on about this topic. I am very thankful for having this class and thank you for your time and attention."
~Alejandra, Indio High School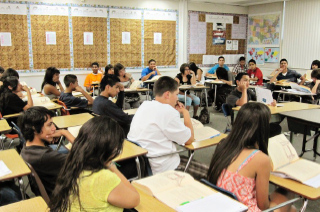 "Freshman Seminar isn't like other classes. It doesn't teach us fancy equations, grammar, or any scientific formulas… it teaches us about LIFE. Before I came to this class, I can truthfully say that I had no idea what I was going to do with my life. I knew I was going to graduate high school and get a four-year degree at a UC college. But after that … NOTHING. I knew I wanted a family and a stable job that I loved going to, but I really had no idea about the steps it would take to get there. Even though I've only been a part of this program for about three weeks, I'm already taking steps and learning about my pefect career, and the preparations I have to make in order to get there. Now, I'm no longer going to be looking for a "job" when I'm older, I'm going to be searching inside myself for what career is best for me. This class has already taught me so much about myself, and I'm learning more everyday. I don't know what I would've done if it wasn't for this class, so thank you."
~Kristina, Carpinteria High School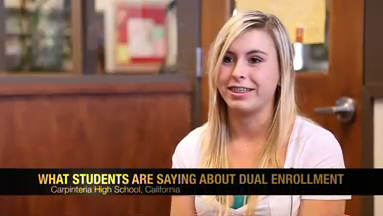 "[Freshman Seminar] made me think that I could be somebody in life. When I was in middle school, I never wanted to go to college; I always thought it was a waste of time. But no, it is very important, and this class is not boring at all. I learn lots of things about life and it has changed me and I'm proud of that. Everything we do here is going to help us later on in our lives. Right now we are doing the budgets, it's pretty fun because it's like your dream life, like everything you want, the best car the best house, everything you want even the best wife. But everything seems so real and it makes [me] think that I could do something like that in my life."
~Jarrod, Indio High School
"To me the most important part of freshmen seminar was the "how do I get it" section. School always stresses that we need to go to college and how we get there but never prepares us for after college. I always thought working hard in school was just to get us to college. Freshmen seminar not only taught me that that wasn't true, but went over how we accomplish a successful lifestyle."
~Sierra, Carpinteria High School