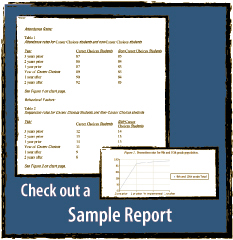 Our team is here to support busy teachers and administrators in the pursuit of key student achievement and behavior data that may have been positively impacted by a course in which the Career Choices materials are used.

To help you document and share information demonstrating the role your Career Choices course has played in student success, we've developed this online tool to provide:
Guidelines for collecting pertinent data related to key dropout prevention and student achievement factors
References for rigorous evaluation methodology
An online tool that facilitates the creation of a complete summary report highlighting the impact of your Career Choices program/course on student learning and behavior
The resulting report can be a powerful part of your decision-making and planning process. And, by updating your information from one year to the next, you'll have a valuable resource for supporting:

Presentations to school boards, administrators, community partners, and faculty members
News releases to the press
Newsletters for students and parents
Show Me a Sample Report
What Do I Need to Get Started?
Log in to Continue Working on My Custom Report